Black President by Rick Schmidt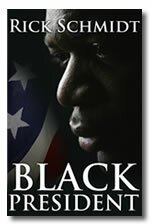 Well, hello again! The countdown to the Oct. 1 publication of Black President is just about here, with only a couple days before it's out in the world, so please allow me to give Picnic Publishing a huge THANK YOU for believing in my book and getting it to this point!  Wow!   It's a pleasure and an honor to be back in the blogging-seat, especially now that I've read all the other Picnic author's blogs and realize what lovely company I'm keeping.  So congratulations to all of you for getting your books recognized and heading for print!   Just awaiting the box of my author's copies to show up so I can gaze upon the final product (I'd better check my mailbox again…)
And now, on to the US meltdowns…
In Black President I've tried to connect the dots of how the elite class of big landowners and richest one-percent of America was formed out of the old-boy network, leading right up to, and socially connected with, the US PRESIDENCY.  And suddenly we have these huge 'corrections' going on again in the financial markets.  Loans were available to almost anyone who wanted to take on a mortgage a few years ago, and it's hit the wall with millions of forclosures (question: who makes all the money, whether the market goes up…or down?). Capitalism can't seem to help breeding this mindset.  At the same time, most of us can't save enough in this inflationary environment to save or invest in anything! 
Regarding this current meltdowns of US financial markets, the greed-factor seems to be massively at fault.   On this subject, I'd like to run a short piece I wrote as part of my memoir ('Twelve Dead Frogs and Other Stories') that may be of interest.  In the late 1960's my life intersected with an old Italian grocer named Joe, who altered my concept of 'money.'  Please enjoy this short flashback.
*          *          *
JOE'S SANDWICHES
During the summer of 1969, dazed and confused after the breakup of my first marriage, I aimlessly walked the Bay Area streets, hoping to let the poison seep out. Since I didn't have any destination, no goal of any kind, I was suddenly living in the present more than I ever had before.  When I wandered into any place of business I took my time, looked around at the people and things, even consciously smelled the air instead of just rushing in then out with a purchase, like I do now. 
One day I ducked into a corner grocery on Claremont Boulevard, a block off Telegraph Avenue near 51st Street in Oakland.  As was my new custom, I gazed around me and slowly took it all in.   The small space was poorly lit, the aisles so narrow I almost had to walk sideways.  Wide wooden shelves were stocked with a mix of Italian and American foodstuffs, with dried salamis, cheeses and peppers, brooms and other sundries hanging overhead.  At the end of an aisle there was a free-standing rack of greeting cards from the 1930s, their quaint phrases adding to the ambiance. "Come out of your doghouse and play,"  one said, showing a lovelorn man looking out from the entrance of a doghouse, red hearts floating above his head.  Before the end of that first visit I learned the store was run by an old Italian guy named Joe, who seemed to spend most of his time sitting behind the counter on a short stool.
Over the next few weeks I found myself returning to dawdle awhile, exploring the place like I might a museum.   When I saw a small group of secretaries and businessmen form a line at lunchtime to buy Joe's homemade sandwiches, I joined in.  His 'poor boy' included three kinds of meat, three kinds of cheese on a French roll, and cost only 25-cents.  A quarter!   Even in the late 1960s that had to be considered ridiculously cheap.  An empty French roll cost that much anywhere else.  Didn't Joe realize a roll with meat and cheese should run at least a dollar?  Was he stupid?  Senile?   What ever he was, I hoped he'd never change.
At some point Joe decided to reduce his quota of sandwich clients to just fifteen, informing me I was still on the list.  He mentioned he'd had the store for twenty-five years.  Pretty long, I thought.  Then he told me his first grocery had been at the insurance storefront right next door, and that he'd been there for thirty-nine years.  Far out!  Joe's two stores had occupied that same Oakland corner for 64 years, about triple my lifetime at that point.
Joe barely had two words for most of the customers, even for the old Italians who arrived daily to pick up bags of food and sign an old ledger.  No money ever changed hands.  These elderly women (I only saw women) all seemed to wear the same kind of long black coats, and none was ever kept waiting.  He would interrupt his sandwich-making or dealings with customers the second one was spotted at the doorway.  Once, when the ledger was open, I caught a glimpse of what looked like hundreds of tiny scrawled signatures, a sum beside each one.
In late August, when I got hired to set tile on a patio at my College (CCA) I went several weeks without Joe's lunches.  But one day I got the urge to show off my discovery.   I impulsively invited two student co-workers to join me for 'the cheapest sandwich in town.'  We drove the quick mile to the grocery, got in line, and I gave Joe our order – three poor boys.  As he went to work cutting rolls, adding meat, cheese, spreading mustard, I began to bask in my upcoming glory.  25-cent sandwiches!  Was I cool, or what? 
After Joe wrapped and bagged the food he suddenly called out in a loud, angry voice, "Rick!  Come over here!"  What was wrong?  I was embarrassed to be so abruptly addressed, could feel a blush rising to my cheeks as the lunchtime crowd and my buddies looked on.  When I reached the counter Joe really let me have it.
"Don't ever bring anyone in here again!"  he exclaimed, making more eye contact than I was used to.  Before I could think straight, recover from my humiliation, the agitated old man lowered the boom.  "Don't you know it costs me more than twenty-five cents to make these sandwiches?!" 
Oh my God!  He'd known all along!  No one had ever gotten away with anything!  I started to say something, but nothing came out.  Finally the word 'Why?' escaped my lips.   Joe's expression suddenly changed from anger to a mix of something between pity and disgust.  Still speaking gruffly, but with a kind of resigned energy, the old Italian declared, "Somebody's gotta do something for this country."
*         *          *
So here was an old Italian immigrant thinking he could help America by selling his hand-made sandwiches at a loss while giving free bags of food away to the local community!  Not quite the typical capitalistic modes operandi!  I'd like to think that Joe's shockwave had something to do with the creation of my how-to book, FEATURE FILMMAKING AT USED-CAR PRICES, written 17 years after the 25-cent sandwiches.   Since people regard the cost of a feature film to be millions of dollars, not thousands from the sale of a used-car, my book helped some artists rethink the possibilities.  So maybe I unconsiously carried Joe's example forward.
What still captures my imagination is wondering how Joe decided on that course of action.  What experiences did he have growing up that drove him to do it? (I'm currently doing some research in the Italian community, to see if anyone remembers him and can supply some facts about his life)  At any rate, he is a hero of mine and I feel  responsibility for helping his story live on (thanks blog!).