Émigré London photographed by Iain Bailey

Do you have a bird feeder in your garden? I have a couple and one thing leading to another, my interest in photography grew. From close ups of insects on flowers, to British garden birds, observing their behaviour and catching a good shot is always a great experience. Once you take an interest, there are plenty of details to discover which are invisible to most. For instance, try to guess the social order of a group of sparrows by watching in which order they are feeding: spot the ones on watch and witness the panic when a sparrow hawk is at bay.
I once took a nice picture of a blue tit hanging upside down from the peanut feeder. They are so swift one has to be quick before they disappear with their prize - a single peanut. Similarly, I once observed the dunnock, also known as the 'hedge sparrow' courting his reflection in a mirror. This lasted for several weeks . . .  Have you ever watched a starling having his bath and shining his feathers in the sun? This can all be quite fascinating and with a pocket identification book you can start to identify the juveniles, males and females, as well as rank from visual features – for tits the bigger the bib the older the male. But as I said, photographing birds, and planes (!), fed my keen interest in photography.
However, little did I know I was about to photograph dresses and haute-coutures frocks . . . and 100s of them!!!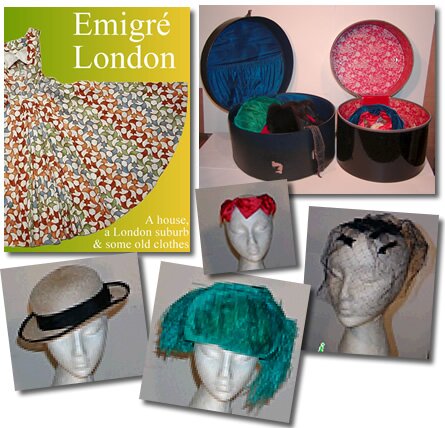 It all started when a friend's house in SW London, full of memories, original features and decor, was being packed up, ready for sale. Everything had been left untouched as if time had frozen in the early 60's, from the old vinyl record player to the matching bathroom fittings. But it did not stop there: hidden away and meticulously wrapped in paper and cardboard boxes were 100s of outfits, dresses and accessories.
The next thing I know, my friend is writing a book about it all - and Caroline and I are buying a headless mannequin off Ebay, as well as a polistirene head, and setting up photo-shoots of the whole wardrobe, from frilly knickers to smoking jacket and collapsible hats. This is how /Émigré London/ all started: friends getting together and, not realising the amount of time everything would take, nor where all was heading, we ended up with a book about a house, a London suburb & some old clothes.
Its nearly done and is about amour, 1960's fashion, escape from conflict and the world in a neighbourhood . . .
Iain