Émigré London photographed by Iain Bailey
Here are some of the dresses I photographed for Émigré London. It was interesting to follow the evolution of fashion as well as the rules at the time: for instance it would not have been suitable for a married woman or a woman of a certain age to wear something too joyful or to revealing (today this rule has somewhat shifted . . .). As a consolation, a range of colourful scarves could be used to customise and brighten up an every day plain black dress.  During the photo shoots, I couldn't help noticing how some of the dresses and accessories clearly looked vintage while others could almost have been in today's high street.
My girlfriend Caroline, the illustrator of Picnic's THE SLEEPY LADYBIRD, pointed out how fashion keeps coming back in strange waves.  I'm usually blind to these trends as, like many guys, I can't stand clothes-shopping.  But after paying attention to the crowds, I realised there was something really odd going on with people's clothing, a mix of 80's come back with leggings, skinny jeans, belts over stripy tops (making some girls look like bees!), and, at the same time, some really ancient styles (only formerly seen in black and white photography – 1920) are also making a comeback in women's jackets, shirts and shoes.
Here are some photographs of the 1920's coming back this year:
http://www.fashionising.com/trends/b–1920s-flapper-fashion-2008-trend-954.html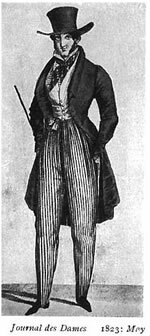 This mix goes even further back with the newly popular 'empire waistline' until recently only found in maternity shops!
Luckily these trends are not so drastic for us guys. I am grateful for this or I would have to walk around in a period outfit looking like this! tell me, can this guy breathe?
 Iain