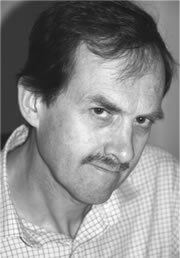 This is the last day of my blog-week and I would like to thank all those who are still doggedly reading it and those that have commented. And very special thanks to those who, at my personal pleading, have restrained themselves from commenting – you know who you are, only one day left to control yourselves, you can do it.
I'm sitting at my desk looking out at the garden which is in full summer flower thanks to – with a little help from the Almighty – the skills of Marietta, my wife. The truth is that I've rather exhausted my blogging repertoire and would like to go out and enjoy the last rays (or rather, first rays, here in the midlands) of summer sunshine; and you should probably be doing the same, so I'll keep this short.
I'm often asked, sometimes asked – well, was asked once, what type of book is The Ghosts of Eden? Is it a thriller – should beta-blockers be taken before opening? Is it a romance – will my mascara be ruined?  Is it a crime novel – must I look for clues? Is it humour – will it make me laugh out loud on a train? That would be embarrassing. Is it literary fiction – will I look erudite if I pretend I'm reading it? Is it a coming of age novel – is there a Kevin in it? Is it horror – must I only read it during daylight hours?
I like reading novels with a little of all the above and I suppose The Ghosts of Eden has some elements of some of those. It's probably a little difficult to place in the middle of a particular genre. That might present a problem to booksellers: what shelf do they put it on? In Leicester: local author, I guess. Elsewhere? The shelf reserved exclusively for Picnic Publications of course!
Now, if you'll excuse me, I'll sign off and, as they say in southern Africa, have a sundowner on the stoep, and so should you. Have a good weekend and get ready to welcome Ben Beazley and his historical detective novel, Crooked Mile.