What can I say in a BLOG for Nov. 5th 2008 . . .
but . . .
Barack Obama, an African-American, is the first Black President of the United States!!!
OBAMA DID IT!!! It's a BRAND NEW WORLD today!
Can't believe the excitement last night, as the news was delivered from TV that he had the Presidential victory in hand. Impossible to keep back tears for me, my wife and kids, family members who were all solidly behind OBAMA. I remember voting in the primary for Obama, months back against the challengers, and wondering just how far this could all go. It seemed like an impossible dream . . . until the second it was announced last night that he had actually won.
Now I can better understand the energy of something like the end of WWII, the dancing and kissing in the street. That's how it felt last night. And all my family's hopes that FINALLY people in other countries will understand that BUSH ISN'T US…far from it. If McCain/Palin had won we would have been so . . . SO emotionally sunk! The very idea of that was something unimaginable. A Republican victory would have been horrible, and yet the daily TV reporting leading up to last night showed masses of McCain supporters. A lot of people I know were actively considering the idea of moving out of these borders if he won. BUT…BUT…WE WON! Still pinching myself, fighting to really believe it!
Obama — first African-American President of the United States. Obama…on-message the entire time. Seismic shift. Acknowledgment of multicultural country.
Race transcendant, but not post-racial country yet (said a black commentator on the Today show)!~
Maya Angelou talks about healing race relations in US:
CNN: What does it say about the country that Barack Obama is a candidate to be president?
Angelou: The country is growing up and confessing to something we've known all along. What prevented us from admitting that we knew that? And I was taken back to slavery.
If you will have a person enslaved, the first thing you must do is convince yourself that the person is subhuman. The second thing you have to do is convince your allies so you'll have some help, and the third and probably unkindest cut of all, is to convince that person that he or she is subhuman and deserves it.
Well, such a job has been done on all of us that people found it very difficult to admit that human beings are more alike than we are unalike. We've known it. But to admit it, you have to stop saying because this guy speaks another language, because their eyes are shaped differently from mine, because they're first-generation Americans from Eastern Europe, then they don't count, I don't have to consider them. With this, the country is finally able to see through complexion and see community.
(for full interview see: http://edition.cnn.com/2008/POLITICS/10/31/maya.angelou/index.html?imw=Y&iref=mpstoryemail)
In Kenya they're creating a new national holiday in honor of Barack Obama's win.
In Beirut, Lebanon, the headline was, 'Black Kennedy in White House.'
(Pardon me as I break into a smile – reading the press release of my Black President novel should explain this reaction :>)
Obama says: 'We won't solve all of this even in first term.' But if he runs the country half as well as he did the campaign . . .
President-Elect Obama's national security briefings begin Thursday. What national/international secrets will he learn? What is going on secretly in the US and elsewhere that only the CIA knows?
In any case, there will be a Black President in the White House in 2009! As my college-age son said in last night's e-mail:
HIP! HIP!! HOOORRRAAAAAAAAYYYYYYYYY!!!! ! ! ! ! ! !
Note from Picnic Publishing: For the record and with great pride, we publish below the lovely letter President-Elect Barack Obama sent Rick and all Obama donors/supporters prior to the President-Elect leaving for Grant Park. The subject line was: 'How this happened'. The email was sent to Rick by Obama campaign, <>. We are delighted he has shared it with us.
—–Original Message—–
From: Barack Obama <

>
To: Richard R Schmidt (EMAIL ADDRESS DELETED BY PICNIC PUBLISHING)
Sent: Tue, 4 Nov 2008 9:18 pm
Subject: How this happened
Richard R —
I'm about to head to Grant Park to talk to everyone gathered there, but I wanted to write to you first.
We just made history.
And I don't want you to forget how we did it.
You made history every single day during this campaign — every day you knocked on doors, made a
donation, or talked to your family, friends, and neighbors about why you believe it's time for change.I want to thank all of you who gave your time, talent, and passion to this campaign.
We have a lot of work to do to get our country back on track, and I'll be in touch soon about what comes next.
But I want to be very clear about one thing…
All of this happened because of you.
Thank you,
Barack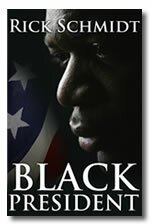 Paid for by Obama for America
This email was sent to: EMAIL ADDRESS DELETED BY PICNIC PUBLISHING
To unsubscribe, go to: http://my.barackobama.com/unsubscribe